The only 100% Volunteer Managed Lighthouse in NC!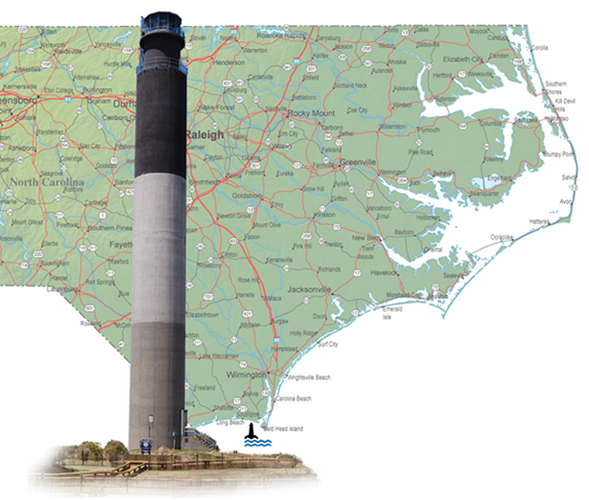 Tours of the lighthouse are provided by Friends of Oak Island Lighthouse which is a not-for-profit organization dedicated to the protection, preservation, maintenance, and development of the Oak Island Lighthouse, lighthouse site and related oceanfront property.
The Lighthouse is currently open for TOP TOURS and OPEN HOUSE TOURS. See below
Please note: Due to the increase in COVID Delta cases in NC, we are asking ALL visitors to please wear a mask while you are INSIDE the Lighthouse. This is being done to help us keep our volunteers and younger or unvaccinated visitors safe. This is OPTIONAL but would be appreciated.
TOP TOURS: Climbing to the top is available year-round for anyone 9 years or older with AT LEAST 2 weeks advanced notice for a reservation (4 WEEKS IN JUNE, JULY, and AUGUST). Requests with less than 2/4 weeks notice will be offered the opportunity to join already scheduled tours IF openings exist. Memorial Day through Labor Day, top tours are ONLY offered on Tuesday, Thursday and Sunday and all tours are ONLY in the mornings. We are closed on most major holidays. Top tours are up 131 metal ship stairs to an outside balcony and are currently offered free of charge and by appointment only. Please check our tour page for additional details and to find out how you can request a tour.
OPEN HOUSE TOURS: Public "no reservation required" free tours to the second level (NOT to the top) are offered every Wednesday (10 AM – 2 PM) and Saturday (10 AM – NOON) starting Memorial Day and running through Labor Day. Visitors climb 1 level (12 steps) for anyone age 7 and up. A docent will provide information about the lighthouse and answer any questions you may have.
For any questions please contact us at: oakislandlighthouse@gmail.com
FOIL is a nonprofit corporation and 501(c)(3) for tax purposes. FOIL is registered with the N.C. Secretary of State for 2020/21 as being allowed to collect contributions. EIN# 20-2548830
Financial information about this organization and a copy of its license exemption are available from the State Solicitation Licensing Branch at 919-814-5400. The license/exemption is not an endorsement by the State.